Oaks and Summer Water
Oaks do best in non-irrigated soils because oak roots are susceptible to root disease fungi when exposed to prolonged moisture during the summer months. These fungi are normally inactive in dry soil, but proliferate under warm, moist conditions created when summer water is applied. Frequent summer irrigation, particularly near the root crown, is likely to result in root decay which can destroy the roots, kill the tree, and create a hazardous situation.
Most California native oaks evolved in regions of wet winters and hot, dry summers. Oak trees are able to survive the dry summers because of their leathery leaves, an extensive root system, and a natural accumulation of leaf litter that cools the soil. A similar environment should be maintained for the oaks in our backyards in order for mature oaks to remain healthy. Grass and other native annual plants grow under the trees in the winter and spring, but die by early summer.
Irrigation for lawns, ground covers, or other ornamental vegetation should be avoided or, at the very least, kept well away from the trunk, such as outside the dripline. Ivy or other cultivated vines near oak trees may reduce tree vigor by competing for nutrients and water. These vines will exclude light and air and hold moisture, contributing to fungal diseases. Keep the ivy and summer water away from the oak trees!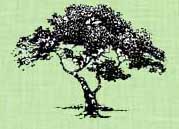 The Atherton Tree Committee is a volunteer, non-profit, community based organization dedicated to the preservation of Atherton's heritage trees. The committee participates in a variety of programs designed to educate residents about the value of trees in our environment and to encourage appreciation and protection of our urban forest resources. For more information about town ordinances, policies, inspections, and plan reviews contact the Atherton Town Arborist, Kevin Kielty (650-515-9783, kkielty@ci.atherton.ca.us) or link to the Town of Atherton Web Site. For more information about the Tree Committee contact Rachel Croft, President (650 323-4714, Pentacroft@gmail.com).