2011 Sudden Oak Death Blitz Report Summary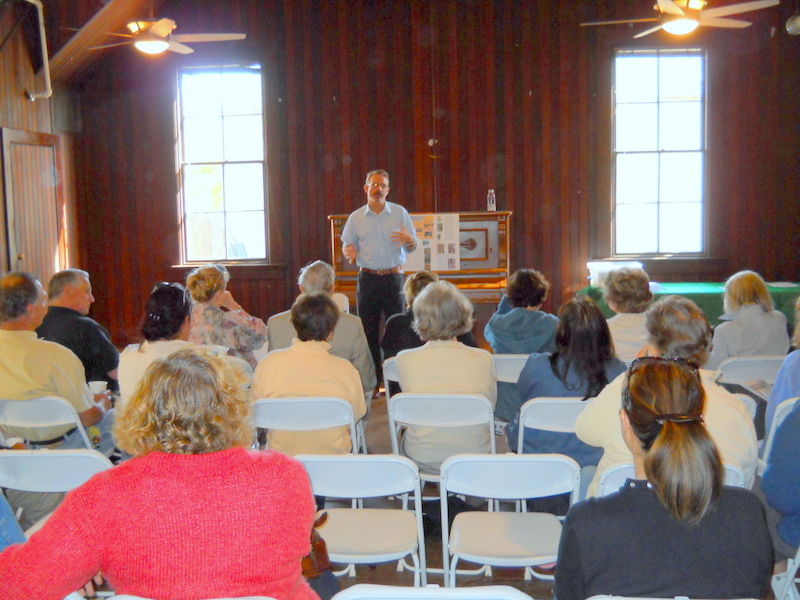 The 2011 SOD Blitz report is available at www.matteolab.com. The incidence of Sudden Oak Death appears not to have increased substantially in Atherton within the past year. Six out of roughly 41 samples were infected this year versus three out of 19 samples in 2010. The infected trees were all found near Walsh Road west of Knoll Vista and Reservoir Roads. One infected tree was found very near Atherton on Valparaiso Avenue in Menlo Park west of Camino por los Arboles.
On May 21, 2011, over thirty-five Atherton residents met for an orientation on Sudden Oak Death (SOD) and instructions on how to sample California bay trees and tan oaks that enable the spread of the disease. The meeting was organized by the Tree Committee and featured an excellent presentation by Matteo Garbelotto, who heads the Forest Pathology and Mycology lab at U.C. Berkeley. (See photo at left.) Over the weekend the attendees collected leaves from trees they suspected carried the disease and delivered them for analysis by the lab. The Blitz is the largest volunteer research project in the country.
The 2012 SOD Blitz orientation will be held on Saturday, June 2, at 9:00 AM and will include a presentation on 2011 results.
2010 Sudden Oak Death Blitz Report Summary and Background
In the spring of 2010, the Tree Committee participated in a bay area SOD (sudden oak death) Blitz by collecting tree samples that were tested by the Forest Pathology and Mycology Lab at UC Berkeley. The committee sampled bay laurel trees because they are the most effective spreaders of the disease. By the time owners see oak trees dying from the disease it is too late to save them.
Of 19 samples submitted from Atherton, one on Knoll Vista and two on Moulton Drive were DNA positive, but not culture positive, for SOD. This means that SOD was present but not necessarily living in 16% of the samples. The other 16 samples from around town were negative (no SOD found). Of 57 trees sampled in Atherton, Menlo Park, and Palo Alto, 24.6% were DNA positive and none were culture positive. The total percent positive (either DNA or culture) was 29% in Woodside, 12% in Portola Valley, and 4% in Los Altos Hills. In the Woodside/Portola Valley areas, more positives than before were found east of Interstate 280.
Of 955 trees sampled throughout the bay area, 4% were culture positive and 14% were DNA positive. Comprehensive results and maps are available at www.matteolab.org - the website of Matteo Garbeletto, the UC Berkeley forest pathologist who is the nation's foremost expert on sudden oak death and oversaw the survey.
The disease that causes sudden oak death, Phytophthora ramorum, infects 107 susceptible host plants, including camellias and rhododendrons. Most hosts survive but some, especially bay laurels, spread the disease to oaks. The most common symptom of SOD on bay laurel leaves is a brown tip surrounded by a yellow halo.
Kathy Anderson, Atherton's Town Arborist is working with the Tree Committee and residents of the Walsh Road area to set up a treatment training workshop. November is the best time to apply the preventative Agrifos treatment. SOD management will require some effort on a yearly basis.
Information on the disease can be found at www.suddenoakdeath.org. Also see an earlier Tree Committee Report on Treatment for Sudden Oak Death.